Things you might need to know:
WIT's Improv Lounge, which often happens at the Fringe Bar on Wednesdays, is offstage for now; we'll let you know when it's back (there's a hint of a whisper that you should clear your diary for all Wednesday nights from July through September).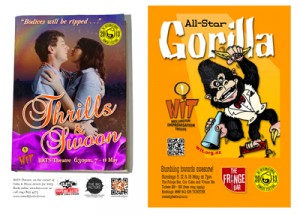 Two WIT shows were in the 2013 International Comedy Festival. Thrills & Swoon had a fabulous run at BATS Theatre, while  All-Star Gorilla rocked the Fringe Bar.  There'll be more improv happening soon, for now follow the show links to reminisce with photos.
Check back here for more news, or, so you don't miss anything, signup to the WIT mailing list.
If you have experience of improvising yourself, WIT would like to invite you to join us and the fabulous Patti Styles for improv masterclasses, over Queens Birthday weekend (Friday 31st May through to Monday June 3rd).
And if you don't have experience improvising, you should start!  Take a WIT's beginner's course on Thursday evenings with classes led by the fabulous Nicola Hill.   The next course runs for eight weeks on Thursday nights, beginning at 7.30pm on the 8th of August.  Unleash your creative potential and learn to improvise scenes, stories and sagas in a supportive and fun group environment.