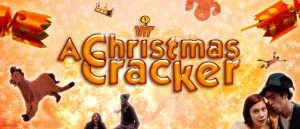 MEDIA RELEASE: For immediate release
A Christmas Cracker
4 – 7 and 11 – 14 December at the Gryphon Theatre
Wellington Improv Troupe has a whole lot of silliness planned for this upcoming silly season. From an improvised pantomime to misbehaving puppets; from heartwarming fundraising to the end of civilisation itself! This December, Wellington Improvisation Troupe presents A Christmas Cracker – two weeks of improvised theatre that promises comedy, charitable Christmas cheer, pantomime horses and more surprises than a leaked Ministry document.
Running at Gryphon Theatre on 4-7 and 11-14 December, WIT presents its first bumper season of shows to celebrate the holidays. From the people that brought you The Last Saloon, The Wishing Tree and The Young and the WITless VI, and performances from both new members and old hats, this is a season not to be missed.
"This season has something for everyone" says creative lead Geoff Simmons, "We go right from the silly family fun of Pantomime to the black comedy spoof of the end of the world in Apocalimpro. If the Mayans are right at least we will all go out laughing".
Week one features a mix of old and new; first up at 7pm, Micetro, WIT's competitive format that pits improvisor against improvisor, enthusiasm against experience and wit against wit, with a cast of WIT regulars and our latest batch of graduates from our beginner training classes (CEC Wellington). At 8:30pm Duets makes its debut. A show of partnerships, where for 20 minutes each duo has only each other and the stage for inspiration. Each show will feature a different trio of duos. And finally, at 10pm Thursday and Friday, Puppets vs People takes to the stage, with an array of mischievous and downright naughty puppets playing off against WITsters in this late night show. Scenes are created live on stage using ideas straight from the audience. Join us for WIT's first foray into puppetry – a show that humorously explores what it means to be human. Not suitable for children, unless your children are already cynical reprobates, inured to bad language and worse behaviour.
Week two is another mix of magic. Introducing Panto, with all your favourite characters – the hero, the Dame, the villain, the talking horse, all in an enchanting setting, but with a twist – it's all made up on the spot. And to celebrate the long awaited End of the World on 21 December, the second slot brings you Apocalimpro, which will show how the End will begin in a sleepy Kiwi town. This dark show promises a completely different end of the world every night. Puppets vs People pops up again on the Friday, and the whole Thursday is devoted to Impro Unwrapped, an international goodwill project that invites audience members to bring along a gift to put under the on-stage Christmas Tree. Gifts are then selected at random, unwrapped and become the inspiration for a Christmas story. At the end of the night, all gifts are rewrapped and donated to the St Vincent de Paul Society, along with all the ticket proceeds of the show.
Tickets are available now through Eventfinder.co.nz – catch just one show, or settle in for a night of frivolity with our 2 and 3 show passes!
***
Presented by Wellington Improvisation Troupe (WIT), Wellington's not-for-profit, community-based improvisational theatre group. WIT performs and teaches the skills of improvisational theatre at community venues around the Wellington region.
WELLINGTON
Week 1
Micetro 4-7 Dec @ 7pm
Duets 4-7 Dec @ 8:30pm
Puppets vs People 6-7 Dec @ 10pm
Week 2
Panto 11-12, 14 Dec @ 7pm
Apocalimpro 11-12, 14 Dec @ 8:30pm
Impro Unwrapped 13 Dec @ 8pm
Puppets vs People 14 Dec @ 10pm
Venue: Gryphon Theatre, 22 Ghuznee Street