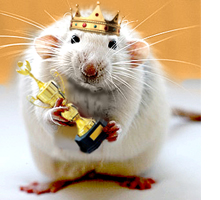 Fringe Festival fixture (and former Fringe best comedy winner) Micetro is back for another bite of the cheese.
Watch as a crew of eager improvisers go head to head in a battle of wit, spur-of-the-moment storytelling and glorious failure. The audience will decide who gets eliminated and who will survive to be crowned 'Micetro'. 
"
It's an adorable, furry war of all against all," says WIT co-creative director Lyndon Hood.  Wily old hands – veterans of WIT shows like The Young and the Witless, The Last Saloon and The Wishing Tree – will meet the pick of recent graduates from WIT's beginner training classes (at Wellington High School's Community Education Centre).
Grab a drink and enjoy an unrepeatable blend of improv games, charismatic humility, stories, songs and shenanigans.
Sundays, February, 17, 24 March, 3, 10 @ 7pm, Fringe Bar
_______________________________________________________
On the second Sunday, February 24th, visiting friends from Melbourne's Spider Dance joined WIT to transform All-Star Micetro into a Trans Tasman All Star Celebrity Micetro Gudge Match.  It was a special night – the reviewers agree!
"A ripe minefield of cultural oddities and bad dialect . . . The challenges were short and sweet, funny and fascinating, and produced my favourite line of all the Fringe comedy I've seen so far"   Amanda Witherell, Capital Times  Debt and Scabbies are Funny
Photographer Ali Little threatened to take arty photos on March 10