Our July shows have happened and were a bunch of fun!   The old notice can stay here to remember them by …
Directors! Directors competing with other Directors to direct a talented troupe of bold improvisors!! Expect an exciting mix of directed games and open scenes, some drawing on audience suggestions, others drawn from the very depths of the tortured soul of a director.
**New Venue Alert**
This show is at R Bar, and the Cuba St access is via a flight of stairs. BUT, there is ramp access from Pringle Street, and if you need to use it, just contact the bar and they'll make sure the right doors are open. There's a mobility-accessible toilet too.
Also, this is a licensed venue, meaning that there are delicious alcoholic and non alcoholic beverages available. However, if you're under 18 you must bring a parent or guardian, and if you look under 25, bring id.
Tickets will be $10, either door sales or via a ticket link here just as soon as we can organise one.
So prepare to "drop anchor and join your Mateys" at Wellington's original Pirate Hideaway and Rummery
What: Director's Cut
Who: The Wellington Improvisation Troupe (WIT)
Cost: $10
When: Thursdays 7th and 28th July 2022
Where: R Bar, 49 Courtenay Place
Facebook Event:  Thursday 7th and Thursday 28th
Tickets will be going live shortly (we're just waiting on the ticketing site thingy)
Fancy poster for the show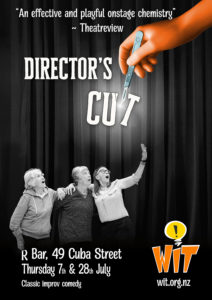 "As a troupe, they boast an effective and playful onstage chemistry" ~ Theatreview
"This group's bounding energy overtook the stage" ~ Nelson Mail