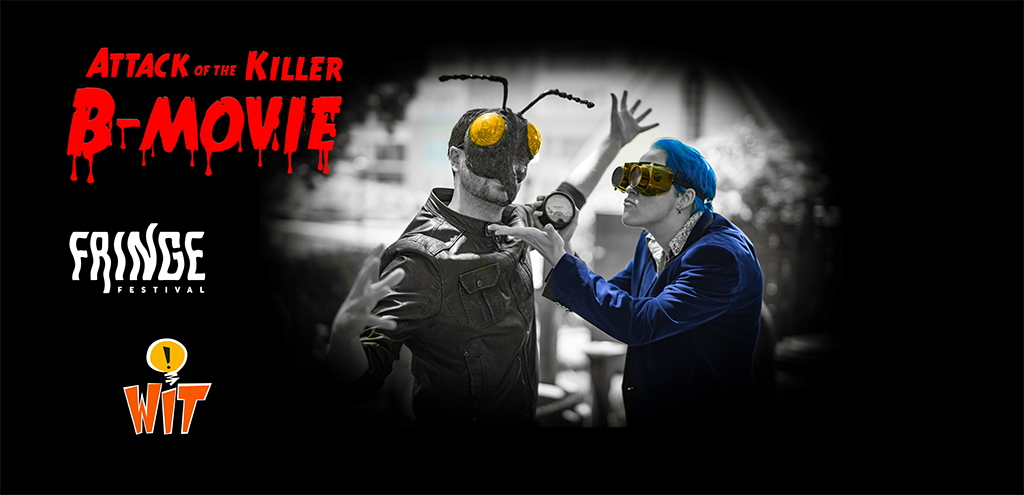 "If you've ever enjoyed a heaped helping of cheesy retro cinema goodness, this should put a grin on your face "   Review of WIT's Attack of the Killer B-Movie!
Hilarious titles. Ridiculous Monsters. All improvised.
WIT brings you a new improvised show following the classic elements of B-Movies. Join our unsuspecting cast, as a series of unfortunate events lead them to a horrifying discovery… who will survive? Who will find love? And why is the phone always dead when you need to call for help?!  The story will be influenced by suggested movie titles given to the cast by the audience – bring us your most ridiculous original B-Movie titles, and see what we create for you!
This show happened in the 2016 Fringe Festvial Tue 16 Feb  – Fri 19 Feb 2016, 9pm, BATS Theatre – The Dome
A special edition visit was made by WIT to the Nelson Fringe Festival, with a workshop Sunday 1st May, 10am – 1pm and the show Monday 2nd May, 9pm