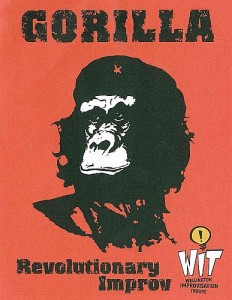 Gorilla Theatre – Join the Revolution!
Tired of Spielberg, Lucas, Tarantino, and their capitalist works? Continuing with their hugely successful 'Wednesdays with WIT' at the Blue Note bar, the Wellington Improv Troupe now brings the people GORILLA THEATRE.
With GORILLA, each night five card-carrying, aspiring directors challenge each other in creating & directing improvised scenes, stories, sagas and perhaps a song.
In the great socialist tradition, YOU the people get to decide which director gets adorned as state champion.  Unpredictable, quality improvised comedy, each night. Vodka optional.
Gorilla Theatre features the following WIT Comrades: Mark, Ali, Lyndon, Merrilee, Paul, Barry, Simon, Steve, Christine, Kate, Anton and Woody.
Wednesdays in September 2008 at the Blue Note Bar
Le Abattoire – Derek Flores, Christine Books and Danni Taylor play "numbers of words (audience sourced footage)