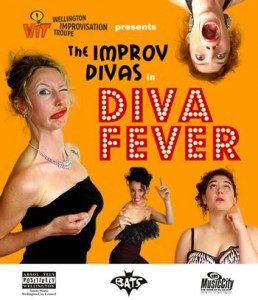 From a BATS Theatre press release, 14 January 2004
Diva Fever! Season: Thursday 15 – Saturday 17 January Time: 8pm Tickets: $15 waged $10 concession
New Zealand's all-female improvisation act the Improv Divas is back! The Improv Divas' latest improvised comedy show Diva Fever! premieres at BATS on Thursday.
Sizzling stories, songs and scenes will be made up on the spot, based entirely on suggestions from the audience around a hot summer theme. "The audience won¹t know what¹s going to happen. And neither will we", explains Diva Nicky Hill. "Sometimes we will work actively to achieve funniness on stage, but more often that funniness will be thrust upon us. Improvisation is about enjoying looking very, very foolish really."
Diva Fever! features five of Wellington¹s up and coming female improvisers in the cast – Danielle Hodgson, Chrissie Ainsworth, Clare Kerrison, Juliette MacDonald and Nicky Hill. The Divas are part of a growing improvised comedy scene in the capital and are part of the regularly performing Wellington Improvisation Troupe (WIT).