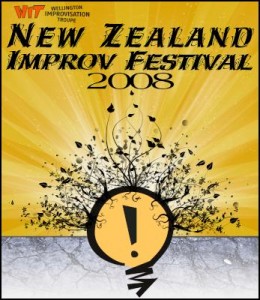 The first New Zealand Improv Festival 2008 ran 27-29 November at BATS Theatre, and featured performances from Wellington, Auckland, and Christchurch troupes.
Producer: Merrilee McCoy
Artistic Director: Derek Flores
PRESS RELEASE 19 November 2008
New Zealand's most playful minds spring forth from Christchurch, Wellington and Auckland – together at last to present an action packed, hilarious symphony of improvised theatre – for three nights only!
For the first time the country's top improvisation companies come together to expose Wellington to a plethora of improvised comedy at its funniest and most daring.Each night two different companies take to the stage to entertain. In the grand finale on Saturday – the teams join forces, mix and fight it out in a 'Festival All-Stars' extravaganza – showcasing the best players from around the country.
JESTERS: "Terrific… One of the BEST troupes I've come across"
– Nancy Cartwright (voice of Bart Simpson)
IMPROVISORS: "This team is nothing short of phenomenal…." – Theatreview
WIT: "…formidable and funny" – Theatreview
Join us at BATS Theatre for a blooming great festival of moment-to-moment hilarity, a festival of spontaneous thought, high wire danger – The New Zealand Improv Festival!
Schedule:
27 Nov: WIT (Wgtn) perform LOVE POSSIBLY and The Improvisors (Wgtn) perform IMPROV THE SECONDARY SCHOOL MUSICAL
28 Nov: Court Jesters (Chch) perform ONCE (AND ONLY) UPON A TIME and The ConArtists (Akld) perform AUSTIN FOUND
29 Nov: All Stars Improv Spectacular!
What is Improvisation? Improv brings ordinary people into the theatre to enjoy stories spontaneously created from audience suggestions. For the players, improvisation provides a platform to explore performance and the narrative form. Most of all, it's fun for everyone involved. Popularised by television shows like 'Who's Line Is It Anyway?', improvisational theatre continues to evolve and entertain.
The New Zealand Improv Festival now has its very own website