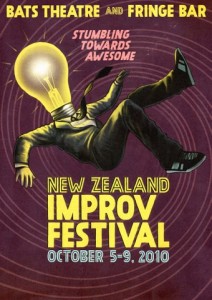 The third annual NZ Improv Festival was held at BATS and the Fringe Bar in October 2010.
Press Release 4 October 2010
We've got visiting improvisors from Christchurch, Auckland, Sydney and Canada, not to mention the lovely people who hail from Wellington.  As well as shows every night, we are offering public workshops for high school students, teachers, and beginner adults.
WIT and the NZ Improv Festival
–
All Star Micetro
Crash-and-burn elmination improv!
It's the "Survivor" of improv comedy. Individual improvisors are awarded points by the audience, and only the best make it to the final scene. Don't miss the fun as improvisors from all over join together to fight it out on opening night of the NZ Improv Festival.
NZIF LP – the long play shows.
Saturday night is the all star finale of The NZIF and what better way to celebrate than to make it all up on the spot – not 1, but 2 long form shows! Bringing together the best from NZ and abroad each of the 2 shows will feature an eclectic cast from the NZIF pulling together to create night of riveting improvisation. using only a few audience suggestions the players spin and weave a tangle of narrative threads hoping that something makes sense.so many unpredictable variables! unheard of risks! high audience satisfaction!
a stellar way to pay homage to the spirit of the festival!
/
Crumbs Comedy
Winnipeg, Canada
Freestyle improv comedy fresh off European and Canadian tours.
Join Stephen and Lee for an hour of comedy never before seen in New Zealand. Not to be missed!
"The pair are just too good to drop the improvisational ball." – CBC Manitoba
"This was the funniest thing I have seen in a long time! Please go see this show." – ratewinnipeg.com
Sincerely, yours: an improvised love story
Starring: Rebecca De Unamuno – Sydney, Australia
and Derek Flores – Calgary/ Wellington
2 lonely improvisers ISO FWB
must like laughing and taking risks.
social drinker ok.
no freaks.
looking for discrete audience to share a spontaneous night of wild passion and romance.
Love is many things to many people, and improv festival favourites Rebecca de Unamuno and Derek Flores explore the complex relationships within the courting ritual, all gleamed from audience suggestions.
Death at Murder Manor: a script-free Agatha Christie mystery
Court Jesters – Christchurch
Lord Reginald Murder has called a group of strangers to his manor for tea, cakes and a surprise announcement, but their refreshments are interrupted by the rudest guest of all…murder!
In Death at Murder Manor the Court Jesters create a classic English whodunnit that promises to be different every time. Will it be Reverend Smythe in the aquarium with the salad tongs? Or Colonel Frobisher in the dungeon with the miniature zeppelin? It's really up to you.
WITside Story: an improvised muscial
Something's coming…strike up the band and get those jazz-hands ready…it's an all singing, all dancing improvised musical! Come and see the WIT guys and dolls working in harmony (we hope) to perform chorus lines without lines, wicked and wonderful stories told in song and all made-up on the spot from audience suggestions.   Put on your hairspray and get ready for an enchanted evening of story telling which should sound like music.
Holmes Alone
The Improvisors, Wellington
When The Improvisors began, 20 years ago, Greg Ellis was young man scared scriptless on the stage. Things still haven't changed – he's older, slightly greyer and broader but still scared out of his mind.
Why?
He's stepping into the shoes of the greatest detective of all times, Sherlock Holmes, to solve a completely improvised murder mystery in under an hour – all by himself! He's taking on a one-man improvised comedy show – something that's been tried only a few times in New Zealand before.
The Hotel
ConArtists, Auckland
Welcome to The Hotel. You'll be staying with other guests who are here for various and nefarious reasons. They've checked in with stories to tell, affairs to have, and dramas to live. The Manager and staff will make sure you're well looked after for your hour in the lobby, the bar and even in the guests rooms. Featuring seven actors (or more) and surprising twists and turns in the lives of interesting, funny and absorbing characters. Can I take your bags?
Late night jams
featuring players from all troupes
Late night improv jams starting 10pm at Fringe Bar on Thursday and Friday night!
Ever wondered what happens when improvisors from different cities get together to make up a show? So do we! Make sure you're at the Fringe Bar on Thursday and Friday night of the NZIF to see it.