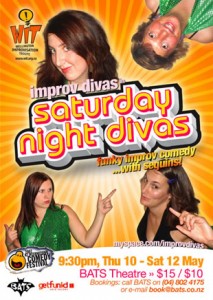 at BATS, Wellington, from 10 May 2007 to 12 May 2007
LISTEN TO THE GROUND, THERE IS IMPROV ALL AROUND, THERE IS SOMETHING GOIN' DOWN AND YOU CAN FEEL
The foxy ladies of improv comedy are back in "Saturday Night Divas" – three funkadelic nights of stories, songs and scenes made up on the spot. As part of the New Zealand International Comedy Festival, BATS Theatre will play host to the Improv Divas as they shed their daggy daytime cardigans and reveal the dazzling divas within.
"If you've ever wondered about the synergistic power of improv and smooth disco tunes, now is your chance to see the magic in action", explains Improv Diva Christine Brooks. "Oh, and there may also be sparkly costumes. Yes, sparkly."
Saturday Night Divas is another initiative from New Zealand's first all-female improv act, the Improv Divas, the people responsible for the successful 'LovePossibly' in the 2005 Comedy Festival, in association with the Wellington Improvisation Troupe (WIT). WIT previously won the Best Comedy Award (New Zealand Fringe Festival 2003) and is Wellington's only community-based improvisation troupe.
So what are you waiting for? Get your groove on at BATS Theatre and see the Improv Divas in action! Can you dig it?