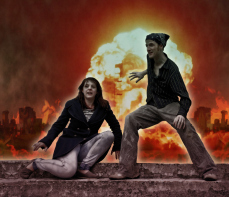 11 – 14 December 2012, Gryphon Theatre
It's 2012. You know what that means: The End. Who would have guessed it would begin right here in small town New Zealand?
The End of the World… a different way every night!
From an improvised pantomime to misbehaving puppets; from heartwarming fundraising to the end of civilisation itself! This December, WIT presents 'A Christmas Cracker' – two weeks of improvised theatre that promises comedy, charitable Christmas cheer, pantomime horses and more surprises than a leaked Ministry document.
From the people that brought you The Last Saloon, The Wishing Tree and The Young and the WITless VI, and featuring performances from both new members and old hats, this is a season not to be missed.