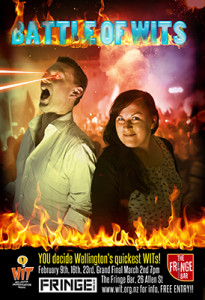 Wellington's best loved community improv troupe is back with another glorious season of Battle of WITs, and this time you can see it for FREE! The Wellington Improvisation Troupe (WIT) want to share the love with their hometown. All the Sunday evenings of this Fringe Festival come on down to the Fringe Bar and watch teams of intrepid improvisors battle it out to be crowned the champions.
Original theatre will be made up on the spot by tireless teams formed from a frothy mix of
Wellington's leading improvisers and some courageously adorable newcomers. Choose your favourites, and help them soar to victory on a tide of audience approval.
Director Geoff Simmons promises that each night will be an evening of spur-of-the-moment storytelling and glorious failure. He explains that improv is "sometimes serious and frequently hilarious, either way I promise each night be a show that no one has ever seen before – or ever will again". So, grab a drink and enjoy an unrepeatable blend of improvised games, tales, songs and shenanigans.
This Fringe Festival there are no tickets on sale for Battle of WITs. There may be a hat handed round, but just ignore it if you don't have money, or don't have fun.
"One of the safest bets for a good time at the Fringe " – Theatreview
"I laughed so hard I couldn't see" – Salient
Part of the  Fringe Festival 2014
When: Sundays 7pm, Feb 9th, 16th 23rd, and Mar 2nd.
Where: the Fringe Bar, 7pm