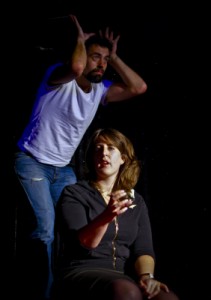 4 – 7 December 2012, Gryphon Theatre
Micetro is a raucous evening of spontaneity that mixes beloved improv games, charismatic humility, and audience suggestions to create a unique night of entertainment that will never be seen again. Catch a mix of Wellington's newest improvisors plus WIT's favourite veterans as they face off in this nightly gladiatorial contest!
From an improvised pantomime to misbehaving puppets; from heartwarming fundraising to the end of civilisation itself! This December, WIT presents 'A Christmas Cracker' – two weeks of improvised theatre that promises comedy, charitable Christmas cheer, pantomime horses and more surprises than a leaked Ministry document.
From the people that brought you The Last Saloon, The Wishing Tree and The Young and the WITless VI, and featuring performances from both new members and old hats, this is a season not to be missed. Season passes and individual performance tickets available.
~*~*~*~
Photographer
Ali Little