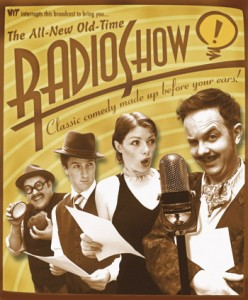 BATS Theatre, Wellington
From 12 Jan to 21 Jan 2006
Testflight show 18 December 2005
 Classic comedy made up before your ears! The All-New Old-Time 'Radio Show!' is a totally improvised comedy show in the style of the golden age of radio, created and performed by leading improvisers from the Wellington Improvisation Troupe (WIT) (winners of the New Zealand Fringe Festival Best Comedy Award 2003).
Using only the technology of the era, WIT's radio players will take you back to a surreal summer of 1930 and a simpler time of stories, songs and standard King's English. This kiwiana variety show will vary every evening, and be completely unscripted and based entirely on suggestions from the BATS 'live studio' audience.
Featuring: 
Radio actors: Nicola Hill, Ryan Hartigan, Simon Smith, Peter Hodgson
Sound FX: Anton Van Helden and Richard Samaeli
Musician: James Burgess
Studio supervision: Paul Sullivan, Kirsten Price.
The show was the first theatre performance in Wellington captured as a podcast!
Radio Promo
ImprovRadioShow
Testflight show, 20 December 2005
The watchtower's dark secrets
Health news – cricket – weather 2
Elephants have gone gone
Captain gravity goes to the dogs
Fri 13th Jan 2006 – Man From Mars
New-sport-weather – pt1
Potty about Nasturtiums
Pride and prejudice – digested
Bad hair jazz song
Man from Mars – pt1
Audience hum-along
Firearms sermon
New-sport-weather – pt2
Man from Mars – pt2
Rapunzel
Man from Mars – pt3
Aussie loosers song
Wed 18th Jan 2006 – The Locked Room
News-sport-weather
The tortured diver mime
Don Coyote – digested
The locked room – pt1
The butter churner of Krakow
bed wetting sermon
The locked room – pt2
News-sport-weather
Jack and the beanstalk
The locked room – pt3
Sat 21st Jan 2006 – The Missing Mole
Intro and news – pt1
One duck landing
The quackers song
The evils of nose picking
The missing mole – pt1
News-sport-weather – pt2
My summer piano poem
Pedal sewing machine adv
Red riding hood
The missing mole – pt2
Invercargill jazz
Technical details: All downloadable MP3s mono encoded using LAME 3.97b encoder with "-V 8 –vbr-new" parameters (avg 40Kbps).