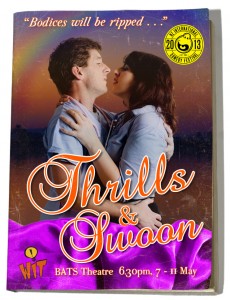 NZ International Comedy Festival 2013
The reviewer's conclusion on Thrills, ". . .a happy blend of celebration and satire.  Recommended ".
Quivering bodices. Dark brooding eyes. Unbridled passion. Wellington Improvisation Troupe (WIT) brings you Thrills & Swoon: Improvised Romance. Inspired by the romance novels you pretend not to read, stories and scenes will be created on the spot, as fresh as an innocent flower waiting to be plucked. From the creators of improvised soap The Young and the Witless comes more hysterical romance.
"Hilarious" The Dominion Post
"Pure bliss on stage together" Theatreview.org.nz
Cast:
Christine Brooks, Steven Youngblood, Jennifer O'Sullivan, Barry Miskimmin, Nicola Pauling, Chris House and Amy Williamson.
Dates: Tue 07 – Sat 11 May, 6.30pm
BATS Theatre, Wellington
Design and show photographs: A Little Art
Poster main photograph: Eclipse Photographic