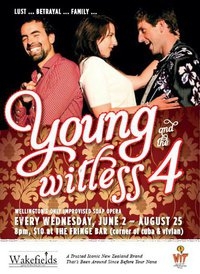 Lust . . . Betrayal . . . Family
Wellington's only improvised soap opera returns!
At the Fringe Bar
Wednesdays 2 Jun 2010 to 25 Aug 2010 

Cast included:
Geoff Simmons, Christine Brooks, Simon Smith, Karen Anslow, Jennifer O'Sullivan, Paul Sullivan, Wiremu Tuhiwai
Fresh from knock out seasons of Micetro, Improv Divas, and Gods & Heroes, the Wellington Improv Troupe is back with another titillating season of intrigue, secrets and unrequited lust!
Join the Wakefields, NZ's #2 retail family as they battle tough economic times, off shore manufacturing, and each other for control of the legacy of great granddad Wakefield.
__________________________________________________

Theatreview.org commented that the show attracted "large and exuberant houses who are not disappointed as the improvisers deliver a compelling combination of narrative twists, character based gags and sardonic breakings of the fourth wall"