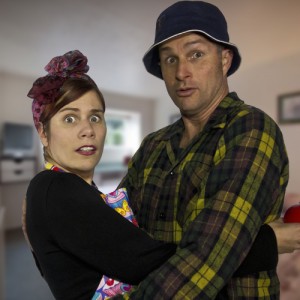 Wellington's Riskiest Show Gets Rural
Wednesdays in August/September  at The Fringe in Allen St, except for a special performance at BATS on September 18th.
In its tenth year of bringing spontaneous theatre to Wellington's stages, WIT is ecstatic to present the seventh annual season of the capital's longest running improvised theatre experience – The Young and the WITless 7. Featuring eight weeks of improvised theatre with no scripts, no limits, and no holds barred, The Young and the WITless 7 returns to the stage at the Fringe in its new home on Allen St, bringing to life the sagas and stories of the people of fictional Te Awaiti.
Just over the hill from Wellington, on the northern edge of Te Awaiti station, sits a small town that shares the same name. The kind of town you only go to when you're going somewhere else, where the local dairy serves the second biggest ice creams in the lower North Island. Next to the town's most notable land feature sits the Te Awaiti Resort and Conference Centre; family run, at least it certainly feels that way. In this town where nothing ever happens, anything could happen….
"Everyone's been to one of those small towns in the middle of nowhere," says Director, Jennifer O'Sullivan. "Some of us city folk can claim one of them as our hometown. These places might not seem to have much going on, but they're always populated with fascinating characters, people who for some reason or another call that tiny speck on the map 'home'. We are excited to bring a small-town flavour to this improvised show, and find out what makes these people tick."
After six seasons of soap on the corner of Cuba and Vivian St, this year sees The Young and the WITless 7 move for the first time along with longtime supporter The Fringe (formerly The Fringe Bar) as they set up shop at 26 Allen St. Both WIT and The Fringe are excited about this new development in the Wellington performing arts scene, and look forward to bringing our own brand of awesome to the Courtenay Quarter.
Drawing both on NZ's soap tradition (Shortland St, Gloss, Palmolive) and on WIT's own improvisation pedigree (Thrills & Swoon, Micetro, CSI: Wainui) The Young and the WITless 7 will make you laugh, cry, and feel every emotion a poignant stare into the middle distance can muster.
"Unpredictable soap produces amusing absurdism" – Phoebe Smith, Theatreview
"Formidable and funny" – Jackson Coe, Theatreview
***
The Young and The WITless 7
Directed by Jennifer O'Sullivan
Featuring: Christine Brooks, Nicola Pauling, Steven Youngblood, Kate Wilson, Lyndon Hood, Barry Miskimmin, Kirstin Price, Anton van Helden, Tai Samaeli, Maggie Cargill, Mary Little and Amy Williamson
Dates: Weds in Aug and Sept @ 8pm [excluding Wed 18 Sept when it's at BATS]
Venue: The Fringe Bar, Allen St
Tickets: Full $12 ($15 on the door), Conc. $10
Bookings: Visit eventfinder.co.nz, door sales also available
SPECIAL NZ IMPROV FESTIVAL PERFORMANCE
Dates: Wednesday 18 September, 8pm
Venue: BATS Theatre
Tickets: Full $18, Conc $14, Festival passes available
Bookings: Coming soon – visit bats.co.nz.
HOW IT ALL ENDED:
Somehow the final episode tied together all the strange lives and tumultuous travails of people from Te Awaiti, a town with a Resort and Conference Centre, a dairy that sells ice-creams and teeny tiny jet planes, and a bunch of unique characters.  The Sergent, secure in his love for Felicity, promoted probationary constables PC Thompson and PC (no relation) Thompson after they managed to outwit French ecoterrorist Serene.  Serene's alpaca-farming sidekick Holden surprised everyone by  heroically throwing himself on a bomb and saving any number of lives.  Ex DoC worker Lew and store-owner Sharlene didn't end up with anyone.  Lew looks forward to being Grandad to hoteliers Keith and Gracie's baby, while bitter yet still hopeful Sharlene will try her luck as a stylist in Hollywood.  This is because Keith got his memory back and realised he really was totally in love with Gracie and not at all in the least in love with Sharlene.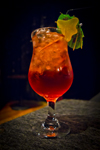 Thanks to our lovely venue, The Fringe Bar in Allen St. On the last night they even made sugarlinnis, a cocktail invented by one of the characters during the show, complete with fancy umbrellas and jet planes.
Opening Night Photos by Ali Little