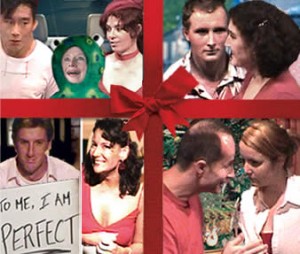 Find true love at the International Comedy Festival…or not…
8pm, Tue 10 – Sat 14 May 2005
Not just another romantic comedy! 'lovepossibly' is a totally improvised 'chick flick' where the audience will call the shots.
"Love and long-form improvisation are high-stakes games for consenting adults only. Over the course of one hour, six of Wellington's best improvisers are going to attempt to find true love without a script." explains Improv Diva Nicola Hill. "There could well be broken hearts."
lovepossibly is the first improv RomCom in the country. "We were inspired by movies like 'Four Flops and a Turkey', 'Nothing Hill' and 'Bridget's Dairy Intolerance'" says Hill, "But this show will appeal to all improv lovers. It represents a rare opportunity to see a long-form improv comedy show in New Zealand."
The show is being brought to the stage by The Improv Divas, New Zealand's first all-female improvisation act ("highly inventive"– National Business Review). Featuring Clare Kerrison, Danielle Hodgson, Kirstin Price, Nicola Hill, Barry Miskimmin, Nigel Chin, Paul Sullivan and Simon Smith.
PG Adult Themes, BATS Theatre